4 Entertaining Pool Games to Add to Our Fun-Filled Water Attractions
Water Attractions & Pool Games
Folks that spend the day or overnight at Great Escapes RV Resort in North Texas have been raving about our water attractions and for good reason.
"What a super fun weekend! Everything from start to finish was incredible! Our family's favorite was definitely the inflatables on the water! Second favorite was the water park. I loved that all of the activities weren't just for the kids, but adults could join in too! We will definitely be back!"
–Brittany T. (Facebook Reviews)
With the latest addition of our Wibit floating obstacle course, we now have a whole slew of ways to get wet 'n wild. No matter your age, you can partake in the fun at our Waterpark, splash pad, and during Water Wars. Our 4 pools are also a part of our water attractions, and you can make them especially entertaining if you know the right pool games to play, like the ones below.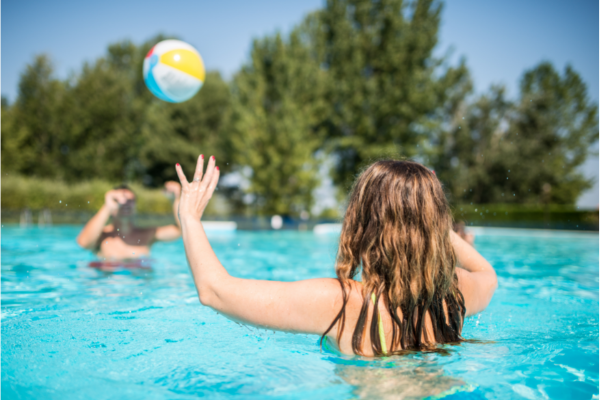 Make Pool Games A Part of the Water Attractions
Air Ball: All you'll need is a beach ball for this game. The goal is to keep the ball in the air without letting it touch the water.
Pool Freeze Tag: This pool-themed version of freeze tag requires players to swim in between a person's legs to "unfreeze" them.
Kickboard Letter/Number Hunt: Help the little ones learn their numbers and letters using some leg strength. Drop foam letters or numbers in the pool. The game's objective is to collect the numbers/letters in order using a kickboard to get to each.
Dolphin Relay: Divide players into teams. Each team gets a beach ball. The object of the game is to push the ball from one side of the pool to the other side using only your nose. If hands are used, the player must return to the starting line and try again. The first team to complete the relay is the winner.
Become Part of the Great Escapes Family
We aim to keep our water attractions open every day at Great Escapes RV Resort in North Texas. However, if routine maintenance or repair is needed, we'll inform folks as soon as possible via our website or platforms like Facebook or Instagram.
Stay Entertained, Stay Informed… and STAY WITH US TODAY!!